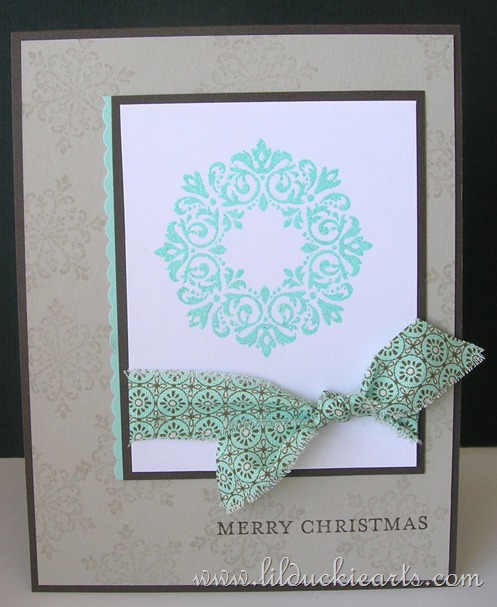 Brunch with lady friends, a raucously fun birthday party, baking awfully yummy and bad-for-you treats, a great stamp class, and some quiet time.. That definitely fits the bill of a great weekend! So of course I'm now fighting off a cold that is not allowed to stick around. I shouldn't complain.. I haven't had anything other than allergies for months and months!
So we come to Christmas… When you make all your holiday greeting cards by hand, it's never too early to start. I'm pretty sure there have been years where I've started in June, and had a good 50 cards done by mid-September. That's crazy talk!
This sweet wreath card is part of a quick embossed Christmas cards class I taught yesterday afternoon. I just love the simplicity and classiness that embossing can bring to a card. Instant awesome on paper.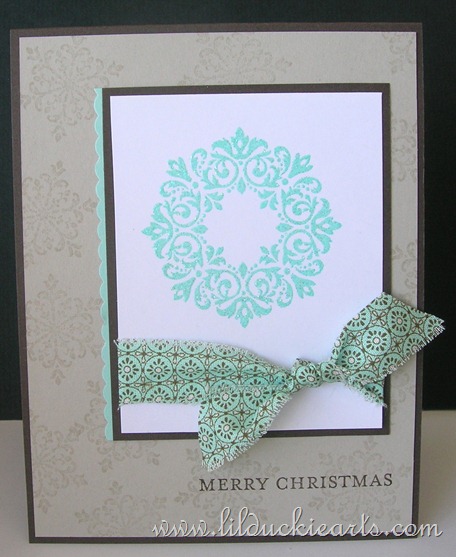 I've used the new Bright Hopes stamp set, and the "ribbon" is a torn strip of the beautiful Spice Cake Designer Fabric. I just love this fabric bundle. It's making me want to sew more, just to put it to use everywhere!
The wreath is embossed in my favourite – Iridescent Ice embossing powder, and the background snowflakes are just stamped using a Versamark Stamp Pad. The itty bitty scalloped edge is done using the Dotted Scallop Ribbon Border punch.
Stay tuned for more in this Christmas series. But don't worry too much, we'll get back to fall and other good things soon!