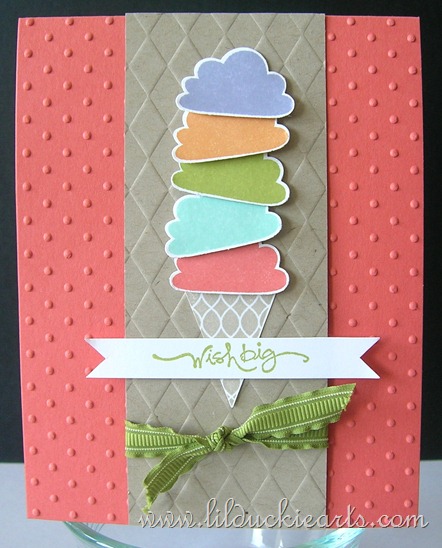 You thought 3 scoops was plenty.. but why not 4? or even 5?! I could go for 5 scoops of all different ice creams right now.. or a DQ Blizzard. I'm pretty sure there's a law somewhere that says we all need a little indulgence from time to time.
Speaking of food.. This baby is making me famished All. The. Time. I'm not one for evening/late night snacking, but last night I woke up at 2am, couldn't sleep, and had to finally cave in and get a midnight snack. Next time the caving will happen far more quickly; I'm sure of it.
Right, so I made this card! It's all about the In Colors. Plus I used my Big Shot for a lot of fun texture. I got all excited when I realized I had a textured plate that would give the sense of an ice cream cone pattern.
This card uses some surprising stamps and punches. For the cone, I used the Pennant Parade set, and for the ice cream scoops, I used the Create a Cupcake set. Yes, ice cream is just as good as the icing on a cupcake. Now, would someone please explain to me why I don't like ice cream cake?!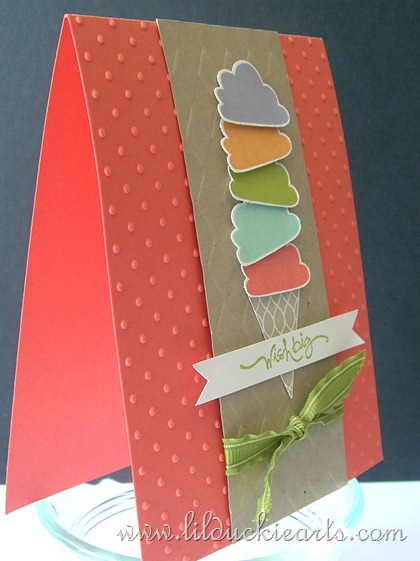 Now then, go get yourself some ice cream.