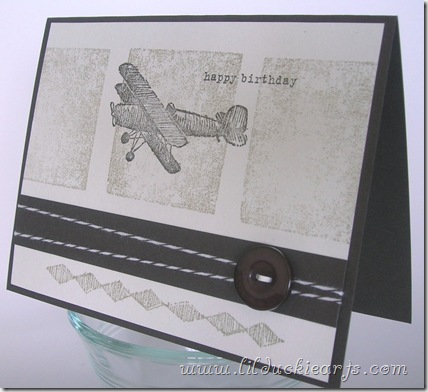 Hi there,
OK, I have news.  I've been feeling like I need a holiday.  I've been working lots and it's making the days just sort of slip away from me.  It ends up being bedtime and I wonder what happened.  Nathan and I decided to get away and relax a bit in Mexico.  Doesn't that sound like the perfect remedy to all of life's difficulties right now? 
In the running were Jamaica and Hawaii, but we decided that since we wanted a very inactive holiday this time around, it'd be much smarter to save those destinations (especially Hawaii) for when we want to really explore. 
So instead we'll sit poolside and read our books.  We'll head to the ocean and jump in the waves.. or Nathan will, and I'll continue to read my book while swimming in a bucket of sunscreen.  We'll eat far too much delicious food – especially me.  I have no little warning sign that tells me when it's time to stop eating.  Or at least it's too quiet and gets ignored. 
*happy sigh*
I can't wait!  Can I leave now?  Please?!  Everything's booked.. isn't that good enough?  No.  I have to wait.  But only until May 8th!
OK, enough telling you how lucky I am to have this special getaway to look forward to.  How about some cards?!  These are from a recent class I taught where we made masculine cards all featuring Stampin' Up!'s Plane & Simple stamp set.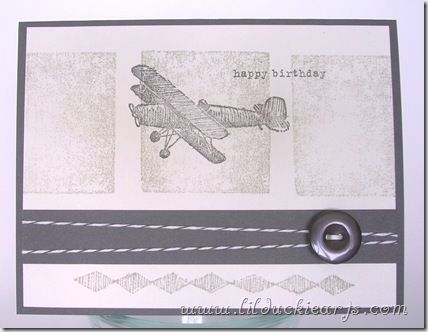 I'm a fan of this one.  I just used my clear stamping block to get those square-ish shapes in the background.  I added some of the new twine, a button, and was pretty much good to go.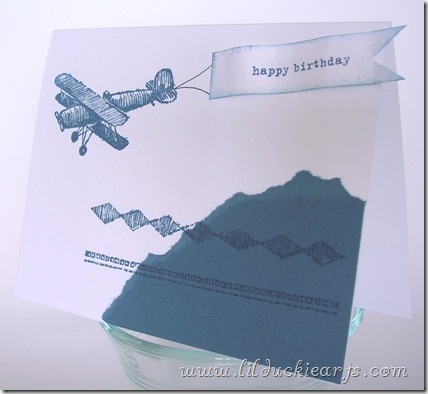 Next up was this very quick card.  The part that my guests liked was the banner.  We curved it around our fingers, added some sponging, and glued it on, adding the ties to make it look like the plane's pulling it through the sky.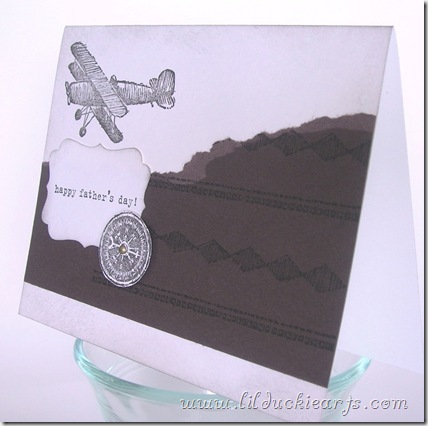 This one's good for a Father's Day card.  We used cut around the circle part of the compass image and added a mini brad.  I'm happy with the two-tone look here.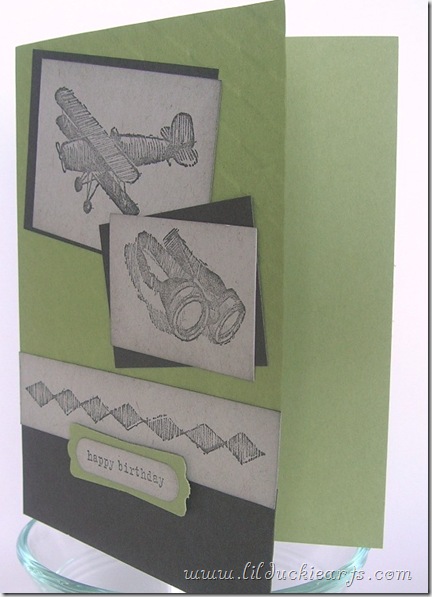 And finally we made this green and brown card.  I was playing around with the layout when I accidentally bumped it.  The background layers shifted and came askew.  It stuck; I liked it!  It's hard to tell from this picture, but we also used a Texturz plate in the Big Shot to add more dimension in the form of a cool diamond pattern to the green cardstock.
Closer up: