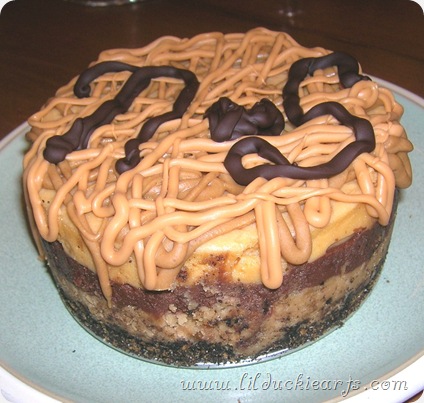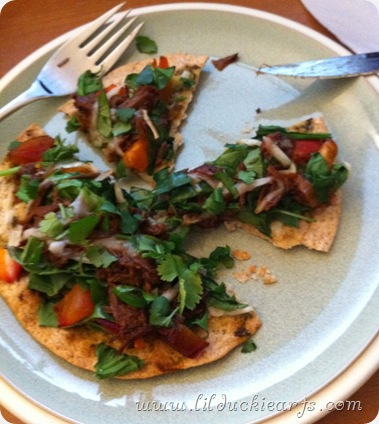 I woke up the other morning, did my usual morning thing.. and I'll be honest, I'm not exactly a speedy, 10-minute morning person.  It takes me a good hour to shower, dress, get breakfast, pretty up a bit, get my coffee.  Í love my coffee.  Can't go far without it.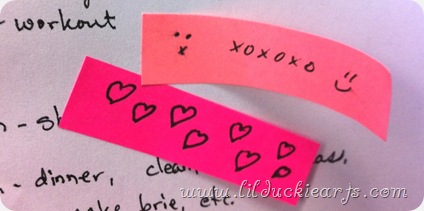 Anyways, as I was about to leave I collected my notes and on my little list for the day were two of the cutest little "love" sticky notes.  Nathan had looked at his pink notes and thought to leave me hearty messages.  Since he doesn't do cheesy-cute stuff like this very often, it felt pretty great!
For a fun date-night dinner I made the most delicious healthy pizza and a totally unhealthy triple layer cheesecake filled and covered with mounds of chocolate.  Dark chocolate, butterscotch chips, and peanut butter chocolate chips.  Oh my.  I want more already.  That's probably why "workout" is on my note above.  I seriously wanted to just pull off the top layer of hard chocolate and eat it all.
Healthy Pulled Beef Pizza
2 small light tortillas (about 80cal each)
1/2 cup pulled beef or: pork, or shredded chicken mixed with 2T bbq sauce
3/4 cup caramelized onions, mushrooms, black beans, roasted veggies.. any mixture will be great!
2 handfuls chopped fresh spinach
20g light mozzarella cheese, shredded
chopped fresh cilantro
Preheat oven to 425F
Lay the tortillas on a baking sheet, then layer half of the pulled beef, veggies, spinach, then cheese on each tortilla.
Bake for 5-10 minutes, until golden.  Watch that it doesn't burn.
Pull the pizzas out, top with cilantro, slice, and serve.
Triple Layer Cheesecake
Adapted from Surly Kitchen
Makes one 4 1/2 inch cheesecake
crust:
¾ cups Oreo Cookie Crumbs
1 T butter, melted
1/8 t cinnamon
filling:
1 pkg (8oz) cream cheese
¼ c sugar
2 T yogurt
1 T flour
¼ t vanilla
1 egg
1/3 cup peanut butter chips
1/3 cup dark chocolate chips
1/3 cup + 2T butterscotch chocolate chips, divided

for the crust:
Preheat the oven to 350 F.
Grease the bottom and sides of a 4 ½ inch springform pan. Combine ingredients, pat into prepared pan with the back of a spoon. Bake 7-10 minutes.
for the cheesecake:
Reduce the oven to 300F
Beat the cream cheese and sugar until creamy. Then mix in the yogurt, flour, and vanilla. Beat in the egg to combine.
Set aside.
Melt the peanut butter chips in a bowl, in 3o second intervals until melted, stirring in between.   Scoop 1/3 of the cream cheese mixture into the melted chips then pour the peanut butter chip and cream cheese mixture into the crust.  Smooth over it with a spatula to make it nice and even. Repeat the melting, mixing, and pouring steps with the dark chocolate, then with the butterscotch chocolate chips.
Bake 35-45 minutes, until the top is golden, the edges are set and the center jiggles a bit. Remove to wire rack to cool 10 minutes. Run a sharp knife around edge of pan, allow to set for 1 hour. Remove from springform pan to a serving dish.
Add 2 T of each chip into its own snack sized Ziploc bag. Seal the bags and microwave 20-30 sec, and massage bag to ensure all chips are melted. Once melted, snip a small hole in the corner of one bag and drizzle over the cheesecake. Repeat for the remaining two bags of melted chips.  Try not to squeeze it straight into your mouth. Refrigerate until serving.
Make this. Your tummy will thank me.