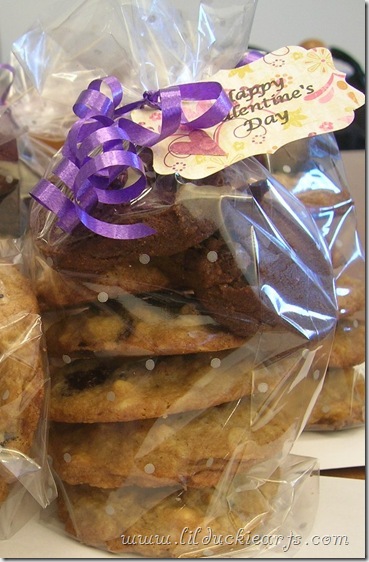 Who doesn't like to receive homemade freshly baked goodies?  I wanted to do something special for my friends to make them feel loved, so I baked a few batches and decided I'd package them up and deliver them, door-to-door style.  I chose the recipes based on how much they pushed my cravings buttons, and on how many eggs I had.
There were the Cherry White Chocolate Oatmeal cookies from My Madison Bistro.  These turned out to be so flavourful, chewy and tender.  Yum.  I often don't like my own baking with white chocolate in it.  It's better when someone else makes it, you know?  like white chocolate macadamia nut cookies.. oh my.  Regardless, these were delicious!
The next batch was World Peace Cookies that I got from Dinner With Julie. They're a double chocolate cookie full of chewy yet crispy amazingness.  She's got a double batch there, and you can freeze the dough to cut and bake at your leisure in the future.. or hey, bake them all now.  Eat a gabazillion cookies!  I promise not to tell.  They're crisp and chocolaty and gooey all at once, with a tinge of delectable saltiness.  You could freeze a log of them and chop off a couple to bake and enjoy while watching The Bachelor.. not that I do that…
Anyways, I packaged these up and took them to friends.  I snuck them in mail boxes and ran away.  The sweet and appreciative emails afterwards were reward enough.  It felt so good to have brought some ooey gooey cheer to my peeps.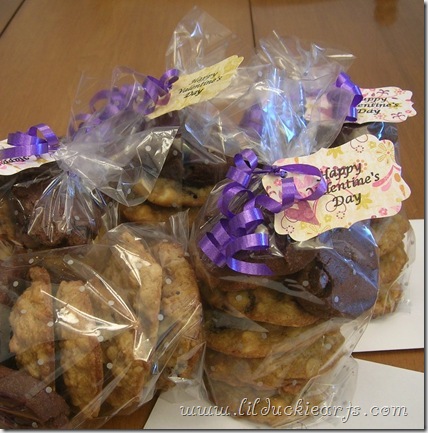 I had some World Peace cookie dough left over, so I chopped some off today, popped it in the oven, and included it along with a birthday present for my closest friend.  Her gift was ice cream themed, and I figured that chocolate cookies go well with anything, especially ice cream.  And coffee.  Maybe she'll make some espresso ice cream…