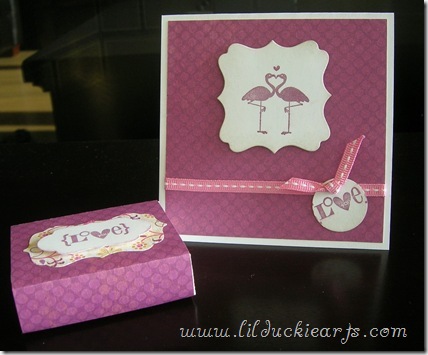 Tomorrow's another work day.  I was mightily tempted to turn down the request to fill in for a teacher tomorrow, but it was a teacher that I love subbing for, and it was high school.  I've been in more than my fair share of middle school classes these last 3 weeks, and I needed a high school interlude!
Valentine's Day is coming up.  Do you think anyone hands out valentines cards to friends/sweethearts on Valentine's Day in high school?  Hmm.  No matter.  I had a Valentine's Cards class the other night, so my two attendees will hopefully be handing out their creations.
It was sort of what I'd call a "project class." We made 3 cards, each with little matching matchboxes for treats.  They're about 1.5 – 2 times the size of a regular little match box, and do a great job at holding cinnamon hearts.
This first set is following that square card style that I used for my maternity cards recently.  I still thought it was cute!  And of course, my Big Shot came in handy for the match boxes.
The next card's coming up soon!  In the meantime I've got to roast a chicken.  They say it's super simple, so I'll have to let you know how it goes.