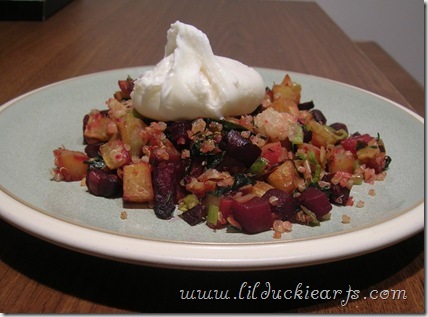 This week crafting has fallen off my radar.  I feel like I've been going non stop at full tilt, so something had to give.  What with working every day, cramming in (well, they don't cram, really) hour-and-a-half long workouts, ultimate games, and cooking dinner.. there just isn't time left in the day.  But check out a delicious recipe I made for us this week.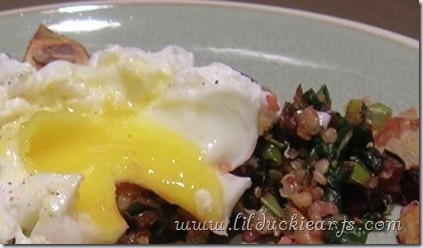 I adapted a recipe from Whole Living, which worked beautifully.  This was my first ever attempt at poaching eggs in water, and I'm pretty happy with how they turned out, and the step-by-step instructions below were super helpful to a newbie like me.  That poached egg, by the way.. so delicious.  I want one on toast right now.  I wish I could conjure things like that up, without having to pause while I attempt to read the entire internet.
You could make this with any combination of roasted root veggies, not just yams and beets.  Parsnips would be delicious, as would carrots, or a big ol' mixture of whatever you fancy. 
Roots and Quinoa Hash with a Poached Egg
Serves 4
Ingredients
1 large sweet potato or yam, cut into 1/2-inch cubes
2 1/2 t olive oil
coarse salt (like Kosher or sea salt) and ground pepper
2-3 beets, peeled and cute into 1/2-inch cubes
4 large leaves Swiss Chard, chopped (or use the beet greens, kale, or other greens)
1T white-wine vinegar (or other vinegar, optional)
4 large eggs
1 leek, white and pale-green parts only, halved lengthwise and cut to 1/4-inch thick
1 cup cooked quinoa
3/4 t chopped fresh thyme
Directions
Preheat oven to 400 degrees. Toss the sweet potato with 1/2 teaspoon oil and 1/4 teaspoon salt.  Spread in an even layer on half of a rimmed baking sheet. Toss beets with 1/2 teaspoon oil and 1/8 teaspoon salt; spread on other half of sheet (so that beets don't discolor potatoes, if you care about this.. To save time, I just did them all together). Roast, stirring halfway through, until tender, 35 to 45 minutes.
Meanwhile, bring a large pot of water to a boil; add vinegar (optional). Break each egg into a teacup. Reduce heat so that water is just simmering. Slightly immerse 1 teacup, and gently slide egg into water. Use a spoon to fold edges of white over egg. Repeat with remaining eggs. Simmer until whites are just set but yolks are runny, 2 to 3 minutes. Transfer eggs to a towel using a slotted spoon, and drain.
Thinly slice chard or other greens. Heat 1 1/2 teaspoons oil in a large nonstick skillet over medium heat. Add greens, leek, 1/4 teaspoon salt, and 1/4 teaspoon pepper; cook until tender and lightly browned, 8 to 10 minutes. Stir in quinoa, thyme, and vegetables; press down using a rubber spatula. Cook until quinoa is warm, 1 to 2 minutes. Divide among 4 plates; top each with 1 egg, and season with a pinch of pepper.