Happy New Years to you!
Nathan and I made a crazy decision last night.  Apparently we're out of our minds.  We are choosing to take another crack at the P90X workouts.  In case you aren't familiar with them, it's 3 months of brutal hour-long (often much longer) workouts, 6 days a week.  Oh, but there's more.  We're also playing Ultimate twice a week, and I'm playing hockey.  Instead of being ultra crazy, we've decided to do bump the p90x workouts on those days, so the whole program will take us another few weeks.
As for crafting, a friend of mine made the cutest little project that I coveted.. soooooo I made one too!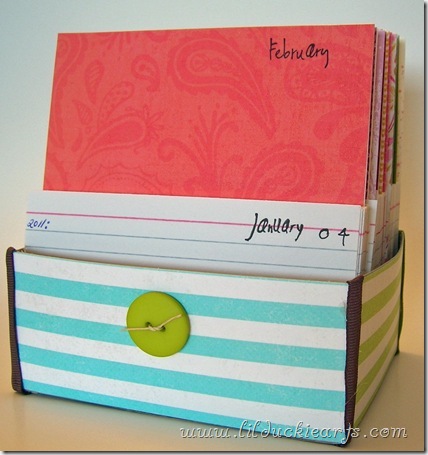 It's a perpetuating 365 journal calendar.  You write one or two little lines for each day.  The following year you do the same, and so-on.  It's pretty neat because you get to look back on the years in a quick point form version.
I used 4 packs of index cards that measure 5" x 3.5".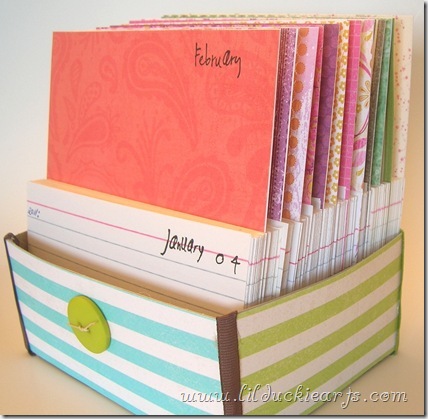 The box was a bit of a tricky part.. I had no boxes that were 5.25"x 3.5" so I had to improvise.  I lucked out and found an old box that used to hold 12 packs of gum (oh Costco, how I heart you).  I added some patterned cardstock, some ribbon, and a button. Ta-da!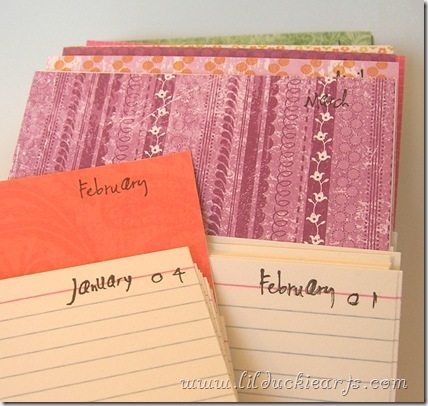 For the month separaters I just glued a piece of cardstock to a piece of patterned paper.  They measure 5 x 5 1/2".  Next, I stamped the months on them.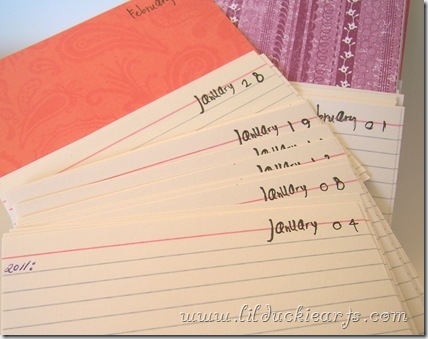 The tedious part? Stamping every single day on a card.  This took several hours, which meant I could catch up on Glee!  Luckily I had a date stamp from years ago.  Remember, you don't want the year at the top of each card.  366 cards later (leap years!) and I'm done.  Pop them in your box and you're good to go.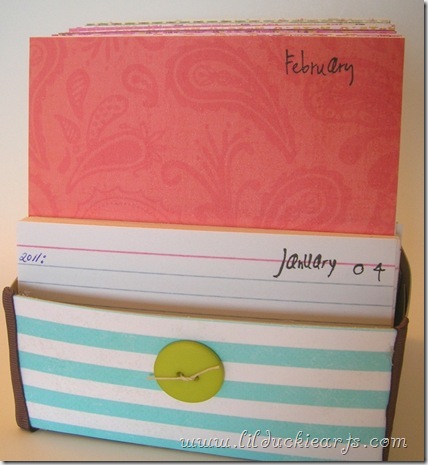 You might be asking why I have a January card at the front, with the February marker right up there with it.  I found that the most logical order for my calendar was to have the markers at the front of each month grouping.  This means that on January 1st, I moved the Jan. marker to the back.  So now the 1st, 2nd, and 3rd are all behind it at the back of the stack.
Now, go make one.  Quickly, before this month is over!