Hi there, lovely people,
The other day I taught a Christmas Gift Card Holders class.  I was pretty pleased with the results, and what everyone made.  They all turned out so well!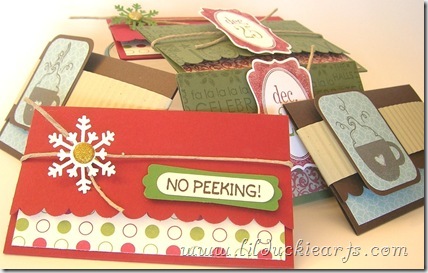 My guests/students each made 2 of 2 designs (with a bit of variation), and one of a third design.  Bring on the last minute gift card presents this year!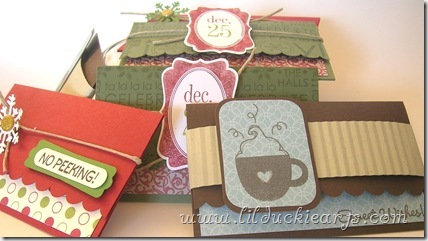 The first design is very clean and simple, using lots of punches.. a snowflake punch, a label punch, the background label punch, and a scallop punch. Whew!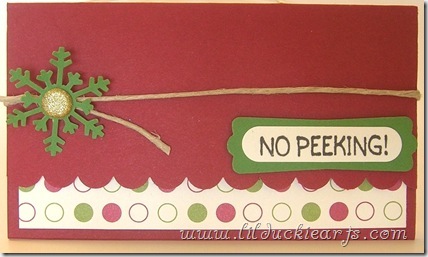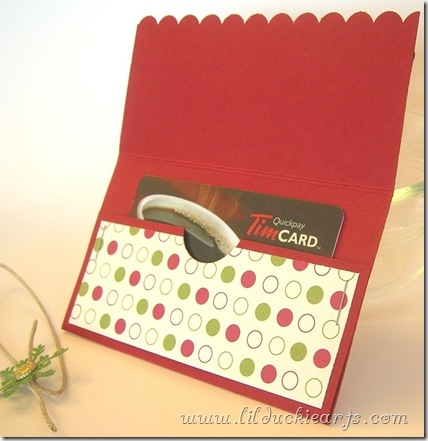 We used some funky Designer Series Paper to brighten things up, and a glimmer brad for extra Christmas sparkle.
The next gift card holder is more of a traditional Christmas style.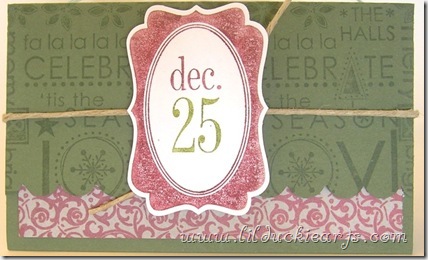 For this one, we used Versamark ink for the watermarked background words, and the stamp is done with markers, and the ever fun "huffing" technique ;-)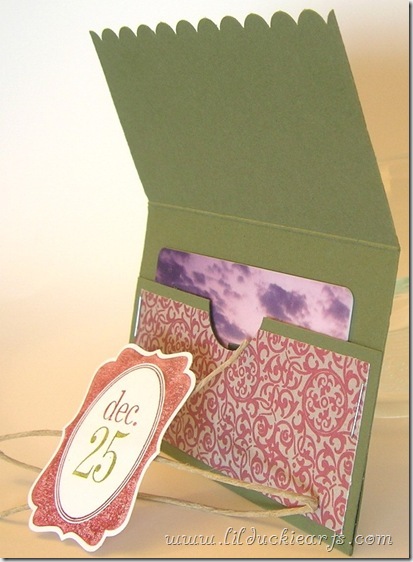 Oh, and I used a one-inch circle punch for the half-circle on the inside.  I think it adds a nice touch.
We all required 4 hands to tightly tie the twine in a knot.  You don't want it randomly slipping off your gift card holder, now do you?  There could be gift card accidents..
The last design is probably my favourite.  I was going with the coffee cozy idea – hence the crimped band.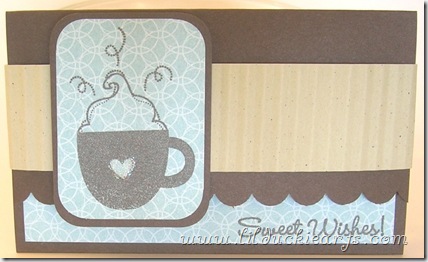 I love blues with browns.. ok, anything with brown.  Brown seems to add warmth and happiness.
Using the crimping tool was probably everyone's favourite part.  It makes such a fun rattling sound!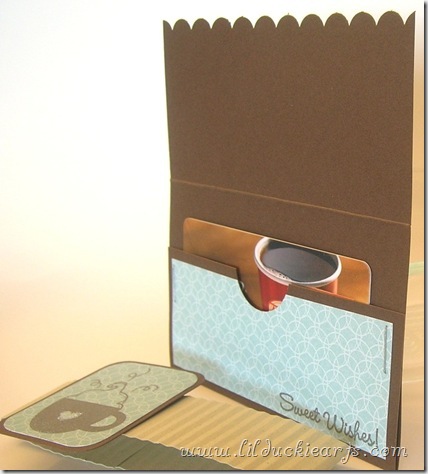 Someone sure has a thing for Tim Hortons ;-)  Notice how those are 3 DIFFERENT gift cards for there.  Ugh – I just don't like their coffee.  Even a short stint working there couldn't get me to like it.
Now, go make these!  You'll thank me!  And they're so super easy, but pack a good wow-factor.
Tutorial coming your way soon.