Hiya, lovelies!
I have a pretty popular recipe to share with you.  You know those delicious pumpkin scones at Starbucks?  These taste just the same.  Definitely a breakfast of champions, complete with the two glazes.
They're easy to make too.  Try them out!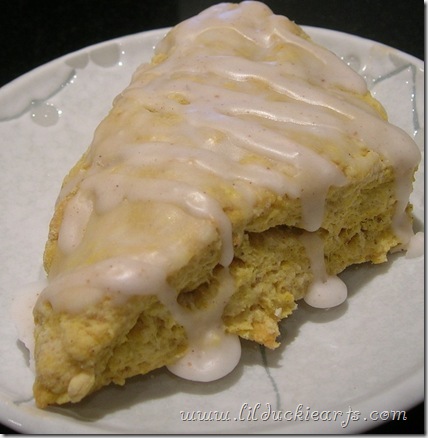 Pumpkin Scones with Regular and Spiced Glaze
Yield: 8 scones
Scones
2 cups flour
7 Tablespoons sugar
1 Tablespoon baking powder
1/2 teaspoon salt
1/2 teaspoon cinnamon
1/2 teaspoon ground nutmeg
1/4 teaspoon ground cloves
1/4 teaspoon ground ginger
6 Tablespoons cold butter
1/2 cup canned pumpkin purée
3 Tablespoons half-and-half
1 large egg
Plain Glaze
1/2 cup powdered sugar
1 Tablespoon milk
Spiced Glaze
1/2 cup + 1.5 Tablespoons powdered sugar
1 Tablespoon milk
1/4 teaspoon cinnamon
1/8 teaspoon ground nutmeg
1 pinch ground ginger
1 pinch ground cloves
1. Preheat oven to 425 F.  Line a baking sheet with parchment paper and set aside.
2. Combine dry ingredients in a large bowl.  Cut the butter into the dry ingredients until the mixture is very crumbly, and set aside.
3. In a separate bowl, mix together pumpkin, half-and-half, and the egg.  Fold into dry ingredients and form the dough into a ball.  Pat into a circle 1-inch thick on a lightly floured surface.  Slice into 8 triangles like you would a pizza.  Place on baking sheet and bake 12-16 minutes.  Keep an eye on it and remove when light brown.  Cool on wire rack.
4. For the plain glaze, mix the powdered sugar and milk until smooth.  Brush over the tops of the cooled scones.
5. For the spiced glaze, mix the ingredients together.  Drizzle over each scone, using a teaspoon.  Allow glaze to set about an hour before serving.
Enjoy!