Hi there!  Well, today I have a recipe that I'm itching to share.  This was my very first try at making potato salad, and I'm head over heels in love with it.  I sort of made up the recipe, with some help from Fine Cooking.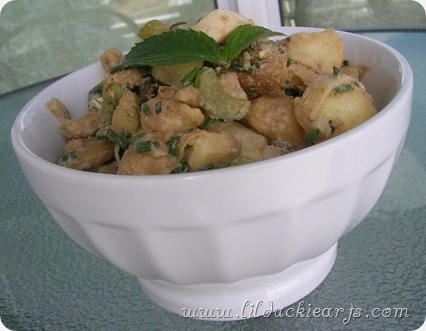 Some highlights in it: Apple and fennel, eggs (a must), and some goodies from my herb garden: mint, chives and thyme.  I can't believe I used to loathe mint in anything other than dessert and gum!  This is so tasty and pretty darn healthy, considering it has a vinaigrette dressing.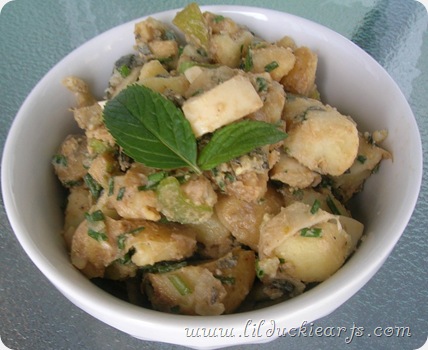 Potato Salad
Serves/Yields: Serves 8 as a side dish
For the Dressing
1/4 cup balsamic vinegar
2 tsp. Dijon mustard
1/4 cup extra-virgin olive oil
1 tsp. kosher salt
1/2 tsp. freshly ground black pepper
1 to 2 cloves garlic, pressed or mashed to a paste
1 tsp. honey
2 tsp. finely grated lime zest
1-1/2 tsp. cumin seeds, lightly toasted and ground
1 Tbs. chopped fresh thyme
For the Salad
1 tsp. plain rice vinegar
kosher salt
3-1/2 lb. medium waxy potatoes, such as Yukon Gold or red (or 3-1/4 lb. baby potatoes), scrubbed clean
1 cup thinly sliced celery and chopped celery leaves
1 cup thinly sliced fennel (quarter and core the bulb, then slice crosswise)
1 cup small-diced Granny Smith apple
4 large hard-boiled eggs, diced
3/4 cup chopped fresh chives
3/4 cup chopped fresh mint
Make the Dressing
Whisk the balsamic vinegar, mustard, salt, and pepper in a small bowl.
Slowly whisk in the oil until combined.
Whisk in the garlic, honey, lime zest, cumin, and thyme.
Make the Salad
Combine the rice vinegar and 2 tsp. salt in a large bowl.
Let sit to dissolve the salt.
Put the potatoes and 2 Tbs. salt in a 6-quart pot and add enough cold water to cover by 1 inch.
Bring to a boil over high heat and reduce the heat to maintain a simmer.
Cook the potatoes until barely tender when poked with a fork or skewer, 20 to 25 minutes.
If the potatoes aren't all the same size, remove them as they are cooked. (Baby potatoes will take 5 to 10 minutes.)
Gently drain the potatoes in a colander and set aside until just cool enough to handle.
Using a paring knife, peel the potatoes by scraping off the skin. (Skip this step if using baby potatoes.)
Cut the potatoes into 3/4-inch chunks. and add to the bowl with the vinegar and gently stir with a spatula to coat. With your fingers, pull apart any pieces that are stuck together.
Gently fold the celery, sliced fennel, apples, hard-boiled eggs, chives, and mint into the potatoes.
Whisk the vinaigrette back together and fold enough of it into the potatoes to generously coat them (you may not need all of the dressing).
Season to taste with salt and pepper and serve while still slightly warm, or at room temperature.
So so worth taking the time to try.  If you do, let me know what you think!