I made an exciting purchase yesterday.  But first, try this recipe.  Seriously.
I am so crazy for this recipe that I just had to share!  It's for strawberry-watermelon slushie, or pops.  I originally got it from Our Best Bites, and have made a few modifications.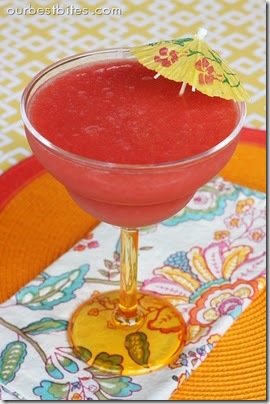 Photo from OurBestBites.com
Strawberry Watermelon Slushie
1/3 cup fresh lemon juice (or lime's good too)
1/3 cup splenda (do not use 1/3 cup from the packets – they're a lot more concentrated!)
about 2 cups watermelon cubes
about 3/4 pint fresh or frozen strawberries
some ice cubes
vodka (optional) – about 4 oz
Blend everything but the ice and vodka, until smooth, then add cubes with blender running, add ice cubes, one at a time.  Stir in vodka, if using.
OR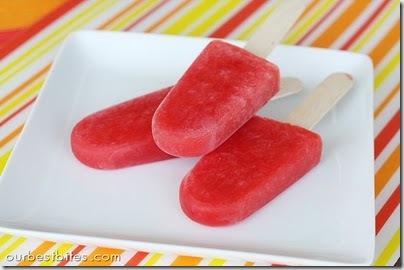 Photo – OurBestBites.com
Omit the vodka, and freeze them into these yummy pops.  I'm in heaven.
My exciting (to me) news?  I got myself a sewing machine yesterday!  After much searching and reading reviews and talking to people, and reading more reviews, and looking at sales, I got this one!  The Babylock Grace.  I'm in love.  Now I need to learn to sew.  My first project was to hem some tights, and I must say, they turned out lovely.