Hey there,
Well, I'm still scrapbooking the wedding album.  We'll have been married a year August 1st, and I still haven't finished this!  Luckily I've gotten to honeymoons (we went on a mini one after the wedding, then a real trip in January).  This has sat on the back burner for many months now, so I figured today was a good day to pull it out.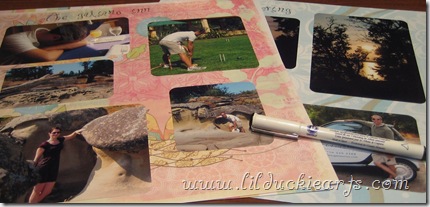 As you can see, I'm doing pretty much the bare minimum, as far as scrapbooking goes.  Hey, I used pretty paper, and rounded my photo edges!  But yeah, no layouts, no layering, no embellishments.  If you're lucky I might add a few stickers or something ;-)  And hey, I promise to label the pictures and even do a bit of journaling! 
I love having albums, but I'm more of a card maker, so the whole fancy-amazing scrapbook thing doesn't happen much with me.
Cheers,