Heyya,
It's finally warm and sunny here.  We've been waiting in anticipation for this weather for months now!  Of course, with the sun comes my craving for a mojito.  My favourite so far this year?  the Strawberry Basil Mojito.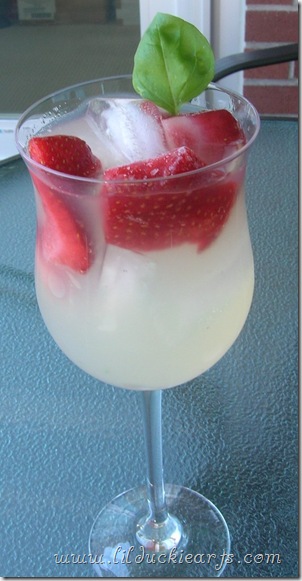 Deeeelicious!  The sweetness of the strawberries combines so well with the spiciness of the basil.   A good friend of mine found herself without ice cubes one day, so she decided to use frozen strawberries instead.  Brilliant!  Think about the potential? Raspberries? Mango chunks, oh my!  You can play around with the sweetness and omit the rum if you like.

Mmmm.. as the strawberries start to melt and release their delicious sweetness… I could drink myself under the table with these..  (which brings up a good excuse to make these nojitos! – also yum with frozen strawberries)
Strawberry Basil Mojitos
12 large basil leaves
1 oz fresh squeezed lime juice
.5oz simple syrup (more to taste)
2 oz white rum
4 oz club soda
5 or so frozen strawberries (5 slices if large)
crushed or cubed ice
Add basil, lime juice and simple syrup to a martini shaker and muddle.  Add rum and club soda, and stir or shake.  Whatever makes you happy.  Fill a glass with strawberries and ice.  Strain mixture over the ice.  Add more club soda to taste.  Enjoy.  Stay above the table.