Hey there!
I've been slacking on the cards, you say?  What could I possibly be doing that has caused me to let you down in that department?  Ummm.. working? yes.. but also, I've been putting in good hours at getting my clear stamps into a new system.
A binder.  On sheets. Large, binder-sized sheets.  Do I like this system?  Well, seeing as how I haven't done any stamping, I can't really tell you one way or the other.. but I don't love it yet.  Maybe it'll grow on me.
What I had was all my clear stamps in little CD jewel cases, stamped onto the covers so I could see in crisp black in what goodies were inside each one.  The problems I faced there were numerous.  Some stamps were just too long to fit inside the cases, and the cases are so small that the sheer number of them was just too many to constantly flip through.  My shoe box storage bin was full. More than full.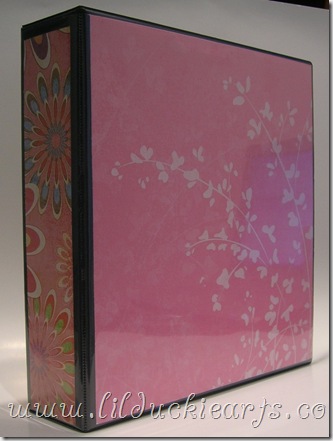 Meet my new stamp binder.  Well hello, there!  Isn't she pretty? I have to admit, her insides just aren't so pretty, but she's useful!  Check out her guts.
I ordered some heavy duty clear sheets from the Old Island Stamp Company.  Gosh their website's awful, but their products are great.  And they're super local, on a little island near here.
On a sheet of cardstock I stamped out the image of each clear stamp I'd have on the adjacent page, then stuck them all on their pages.  There's nothing worse than not getting a visual display of what you have.
Downside to this system?  Well, the fabulous clear sheets are catchier and harder than paper, so they're not so forgiving when you try to flip them back and forth around binder rings.  Pretty frustrating, actually.  So I may photocopy all of my stamped out pages to have a sort of index at the front that I can flip through so much easier.
I started this project with a 3/4" binder.  I'm sure glad I traded up to a 2"!  wow.  Now to get my card-making mojo back.  Can one pray to the mojo gods?