Hi there! Today I tackled sketch # 87 over at Clean and Simple Stamping.  Every week I say that I love their layouts because of – surprise, surprise – the clean and simple looks. I can have white space and it's OK! It's like a refreshing interlude each week because I also like to do the opposite kinds of cards too.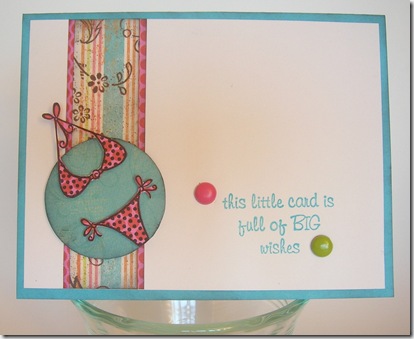 Well, I'm not feeling like I'm ready for any kind of bikini weather, but maybe someone is, right?  I've been in snuggle up (eat lots and exercise little) mode since November, so it's time to kick my own butt so I can fit into last year's spring and summer clothes soon.. So here's some inspirational fodder!
This week has been the start of getting active and eating more healthy for me.  I'm trying out the DVD 30 Day Shred by Jillian Michaels. They're 20-minute workouts and man oh man am I ever sore after! I definitely recommend it, as that's very little time commitment for what are (hopefully) good results.  I'll let you know ;-)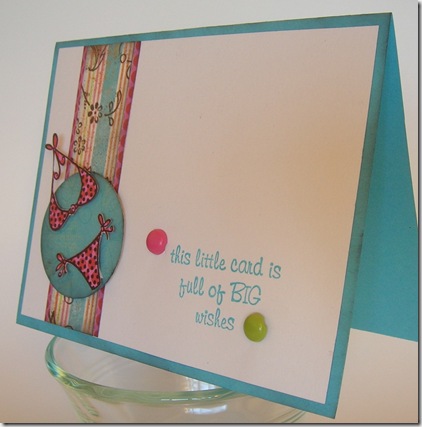 For this card I just cut a strip of a scrap piece of patterned paper that caught my eye and added borders with another.. mmm, bright!  I cut out a circle of green (by hand!), stamped my sentiment in turquoise and stamped the bikini in black on that same border paper.  I cut it out, glued it on, added some brads.. and a card is born.  Now back to my workouts – ultimate frisbee tonight.
And here's the sketch: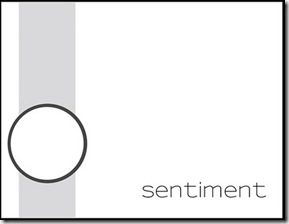 Thanks for stopping by!