Heyya, this has been a very busy week, especially in terms of dates and things.
I have no need to ever complain that I don't get out enough.  My mom, in fact bugs me that we go out too much.. hmm.  'Tis true.  Without the commitment of little ones around us (or in any of our close friends' lives yet), we really do have a lot of time to see one another.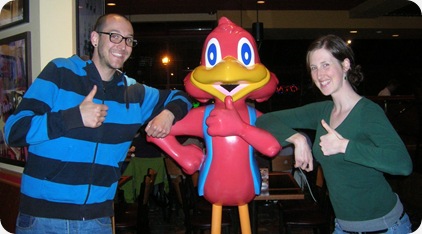 So you could probably say that we had a week of many dates, but I didn't remember to bring along a camera until last night.  Wednesday was a coffee date with Nathan (decaf!), where we played a game of Crib.  Thursday we watched a hockey playoff game with a bunch of friends in a pub where we had delicious dinners to go with our beer.
Friday I left Nathan be and ventured out on my own with some old university friends. Saturday brought another hockey game, so we had a group of friends over to watch it at our place – complete with beer and some bacon wrapped dates that I'd made.
Finally, the source or the picture above.  Sunday we went out for dinner with a great big group of friends.. something like 14 of us!  We went to a very classy family diner style restaurant that has the best burgers.  Yum. That picture is of my good friends Nathan (not the husband one), and Jana.  She has a fun crafty blog.  Check it out!
All in all, a fun-filled week with many events that could be called dates.  I'm a lucky girl!
Check out others' date nights over at Simply Modern Mom.