Hi there, and happy Sunday!  Wait.. that means Monday is tomorrow.. well, I hope it's a good week.
Today I've made another sketch card for Unscripted Sketches  sketch #51.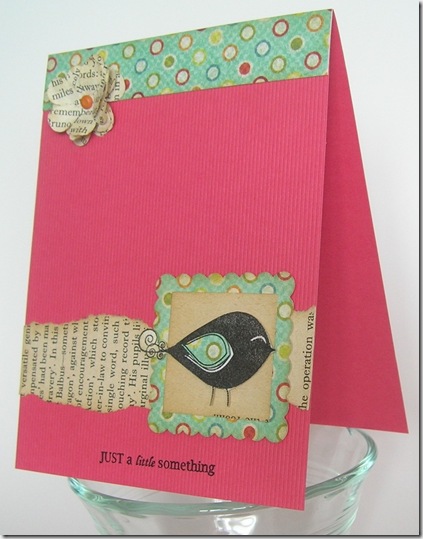 I'm loving the colours and, of course, the vintage book paper.. Don't you love the little birdie too? Squishably cute, I think. Thank goodness for Verve Stamps!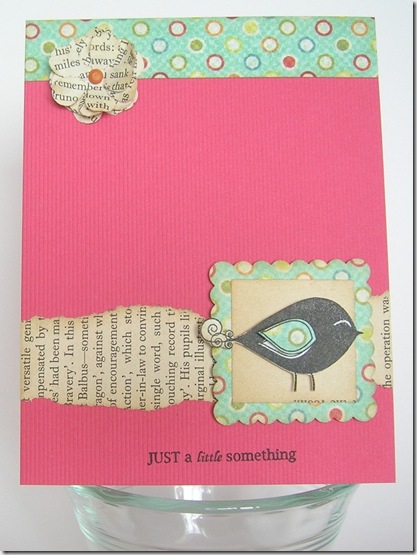 I picked up this raspberry cardstock at a shop somewhere near Washington DC when I was there.  I'm going to be sad when it's gone, as I don't know if I can get it again.
Les instructions
Make a card from a 4 1/4" x 11" piece of raspberry cardstock, then cut a strip of patterned paper and punch out a scalloped piece to match (2 1/2").
Tear a strip of vintage book paper, then cut a square (2" diag) from a blank spot in the book.
Make a flower from 5 punched book pieces, attach with a brad and crumple.
Stamp birdie in Black on white cardstock, and again on patterned paper.  Cut out wing and attach with pop dots.
Stamp sentiment (AMuse) in black.
Edge everything with Antique Linen distress ink (I love it!), and attach together.  Voilà!
And here's the sketch