Hiya!  I have been super busy with non-stamping type things this week. I've been working – finally teaching what I went to school for (French as a second language in high school), and I've also been having some kitchen fun.
I made 4 new recipes this week.  That's  very explor-ey for me!  I find I love love love trying new recipes, but I tend to stick to the same-old for most meals.
Since I got a new cookbook (Jamie's Food Revolution by Jamie Oliver), I decided to test out some of his stuff.  We had Moroccan stewed fish (pretty OK), fajitas (Nathan says they're great, I say I've made much better), and potato leek soup (deeeelicious!).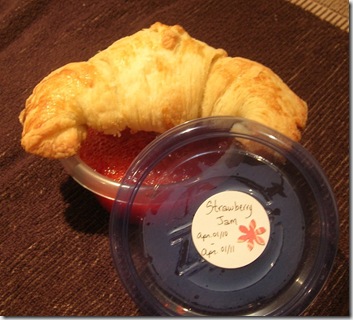 Strawberries were on sale at Costco – 2lbs for $2.79, so I got myself a few with hopes of making strawberry freezer jam.  Well, I jumped right in this afternoon and whipped up a batch.  It's SOOOOO easy!  I found a pectin to use where you don't even have to do any cooking, and you only use 1 1/2 cups of sugar for 4c mashed up fruit.  It's so strawberry-good.. especially on the freshly baked croissants that a friend of mine just made.