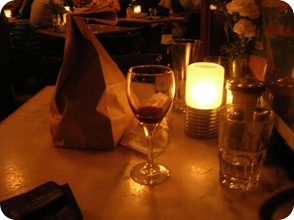 Week 1:
Nathan wanted to be in charge of this date, since we'd been wanting to go to this restaurant since we moved back here. Pagliacci's.  It's a cute little eclectic/Italian place where the tables are packed in as tight as they'll go.  It's frequented by locals and tourists alike, and often has a long line out the door.
We must have seemed pretty funny because we both knew what we wanted before arriving, and ordered the same thing. My memories of the food are fonder than what we got, but it was still pretty darn good.  Then there's the bread. Go there if for nothing else but the bread.
It was a fairly routine dinner-out type date for us.  Some talking, some eating, followed by a short walk before I started to freeze.  I think in the future I want to try something a bit different and more creative from our usual dates.
Some of my ideas:
Hitting the museum (we've got a great one here), followed by a glass of wine
An afternoon of Frisbee in the park and a picnic lunch of dinner
Rock climbing
ping pong and beer
(starting to see a trend here? I get a nice satisfied feeling doing active dates)
A board game evening
I've also gotten a new cookbook – Jamie's Food Revolution: Rediscover How to Cook Simple, Delicious, Affordable Meals by Jamie Oliver.  My idea was to have Nathan help me make the occasional dinner.  He really doesn't like to cook, so am I pushing my luck?  I was hoping I could help things a bit by making it a bit of a collaborative effort.
To learn a bit more about how we started this whole date night thing, etc, read what I wrote here.
Now check out other ideas from the wonderfully creative Tiffany who started all this, over at Simply Modern Mom