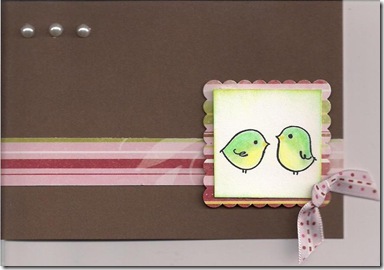 I'm getting cuted out by this card.  I want to make more!  It doesn't help that it's a smaller-than-normal size, which adds to the cuteness factor.  I think going through a bit of a bird phase.  Hopefully I can get out the other end of it without too many new bird stamps!  Actually, as far as habits go, I'm doing really well.  I think I've only bought one stamp in the least 3 or so months!
Things special to this card:
The scalloped piece I used a punch for, but the white piece I just cut with my trimmer.
There are actually 3 birdies on the stamp (by Inkadinkado).. I just inked 2 of them.. and coloured in with Watercolour pencil crayons, blended with a Dove Blender Pen
the pearl gems are by Hero Arts and come in all sorts of fun colours
The bow I just tied in a single knot. (ribbon by Amuse)
I'm thinking of using this as my Valentine's card for Nathan.  I think he's gotten used to my love for all things cute.