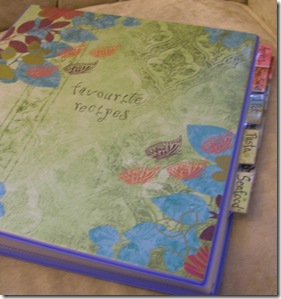 Jacinda over at Prudent Baby made this great binder to store all of her family's favourite recipes, which I thought was a fun idea.  I previously had a binder where I'd stuck all of my recipe clippings and printouts, but it was a bit of a mess.  I like this idea of using page protectors and keeping everything neat and even and consistent. Um yep, I'm a bit of a perfectionist when it comes to organization.
I'm thinking of eventually taking recipes that from various cookbooks, and adding them to this one.. but let's be honest, that's more of a long-term project.  I'm new at this whole cooking thing, so I think I'm allowed some time to suss out what I like and don't like to make.  So I still have two binders – the other still has all the clippings of recipes that I have yet to try, and there are a LOT in that one.
I used some pretty paper for the cover and spine, and stamped my title, as everything needs to be stamped, right? 
For my dividers:  I added a sheet of cardstock to a page protector then stuck page divider tabs that I'd gotten from Staples.  Instead of using the boring white cardstock for inside the tabs, I cut out scraps of colourful paper and wrote my own section titles.  Fun.