While I'm on the pink theme, have a look at what I've created.  This is one of my all-time favourite Valentines cards that I've made.  I blogged about it when I first created this here site, but I think it's worth bringing up again.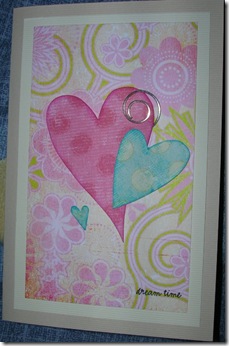 I'm very drawn to the colours and how they harmonize together, as well as the way the swirls work with the shapes of the different hearts.. and best of all?  It was simple to make!
I just layered some paper, choosing a pretty piece of scrapbook paper for the colourful swirly background.  Next, I cut out those two blue hearts.  I used a paper punch for the small one, and a template I had for the other.  The largest heart I drew freehand, which took some modifications and trimming, but turned out great.  I edged them all with an ink cube, then added the round paper clip (which I got from Staples) and attached them with double sided tape and pop dots.  'Dream time' is from a little set I got with baby type sayings. Very cute.