To follow with the whole resurrection theme.. I found a matching Valentines card.  Well, the colours and style match.  This one's a cute, happy little seahorse.  I think I gave this one to my man last year.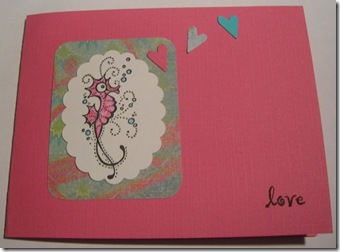 I really like how whimsical the seahorse is.  He (she?) looks like he's wanting to float around and give kisses.  I imagine the little hearts as bubbles of love (cheeeeesy!)
So this one's coloured in with watercolour pencil crayons.  The scalloped oval is from a big craft punch, as are the hearts.  The rectangle piece I used a corner rounding punch on.