News! I survived my first ever ultimate game today and we won by a big margin… not that I helped much.  Anyways, this afternoon, in order to try to minimize my nerves about the upcoming game, I decided to create. This is another first for me.  My first 'peek-a-boo' card.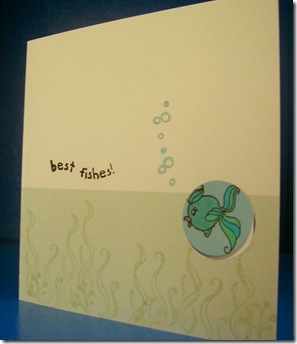 This is the view from the front and…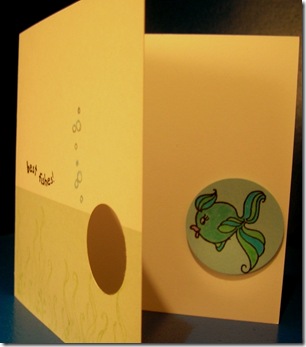 Madame fishy is on the inside.
I stamped some seaweed in light green ink, cut out the hole in the front with a paper punch (1").. then on a 1.5" punched out circle, I stamped the fish and painted in with Twinkling H2Os.  Add some bubbles, some glitter, and a message.
I have now gotten together a little gift for a cousin-in-law who did something nice for me.  Here's to hoping she likes it!