Ok, that title is cheesy.. but I'm leaving it.  I got this lovely own stamp at a stamping retreat about a year ago, and this is the first time I've used him. I'm pretty fond of the brown and green combination, and the mix of simplicity with details like that ribbon-ey twine stuff.. is there a better word for it?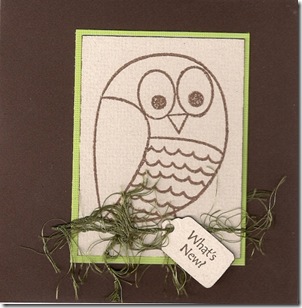 Nothing fancy here.. the tag punch is a Martha product.. the two stamped images are in VersaFine Vintage Sepia.
And the story behind my most recent card-making times? Well, my cousin-in-law had given me a curling iron for Christmas.  Said iron ended up not working, and the store was all out of that model.. sooo she paid the difference to upgrade. So nice. I wanted to do something nice in return, so I'm trying to get together a little set of cards to give to her.. Everyone likes cards, hopefully? Yes?  I don't know.  Not everyone gives cards, and some people really enjoy scoping out the card aisle to find the one with the most hilariously perfect message.  Oh well, some hand-made ones will hopefully be appreciated.