I spent hours playing around with cards and ideas.  I had some pre-scored cards by Amuse that I wanted to use up. Well, it didn't go so well.  I ended up throwing out 3 cards.. ugh.. they were just so hideous!  You can't see them because they hit the recycling bin and away they went.
Here's the first "good" one that came of my day of failed craftiness.. well, I guess it wasn't a total failure after all.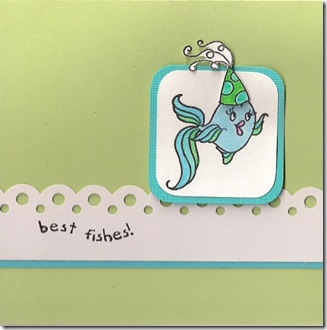 I like the colours, and I was searching for a way to use a Martha Stewart punch that I recently acquired.  We can pretend that the white strip it made is bubbles! or.. water!
So as per my usual, the fish is painted with Twinkling H2Os to get a nice touch of shimmer.  "best fishes" is by Amuse and the fish/hat combo are from a clear set by Stampendous.