Guys, guys, be proud, guys!  I used a drill and made my craft room a tiny bit more functional.  Well, ok, I didn't even get to use the thing.  Normally I'm the power tools gal.  I grew up being the only girl in shop class, with some woodworking tools of my own at home. Hubby here hadn't done any of those things of his own accord, yet he's used our new drill a whole lot more than me. (A whole lot more than never is pretty easy to do)  I was having a hard time with the level on it, so I got some help.  But really, the rest was up to me….
I screwed in some drywall screws and hung this lovely file organizer that I am now using to display my cardstock.  I like to think that if things are out in the open where I can see them, I'll be more easily inspired to create.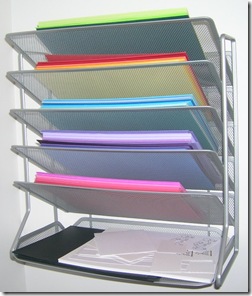 Maybe when I have my own house I can install all kinds of shelves to display my stamps, ribbons and other such fun things.  But for now, this is probably enough holes to patch when we move out!